Dvir criticises Gumtree for selling Nazi-memorabilia- news.com.au
October 25, 2016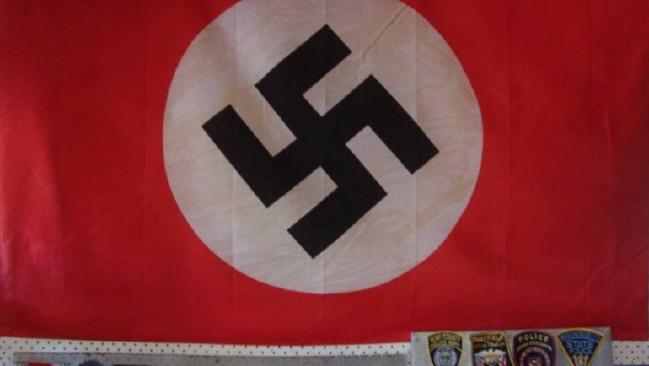 Gumtree slammed for selling Nazi memorabilia
SELLERS on Australian classifieds site Gumtree are doing a roaring trade in World War II-era Nazi memorabilia including Adolf Hitler coins, Hitler Youth badges, flags, swastikas and swords, with some fetching up to $2000.
Other items currently listed for sale include Nazi swastika and eagle pins, patches and pendants, Third Reich Faithful Service medals, belt buckles, police hats, and even Mother's Crosses with Hitler's signature on the back.
While the sale of such items is banned as "offensive content" by Gumtree's parent company eBay, Gumtree does not explicitly name Nazi memorabilia in its prohibited items list. It is not illegal to sell Nazi memorabilia in Australia but is banned in Austria, France and Germany.
Jewish community leader Dvir Abramovich, chairman of the B'nai B'rith Anti-Defamation Commission, has called for the site to stamp out the "stomach-churning" trade, saying he was "deeply distressed and outraged".
"Gumtree, which is owned by eBay, is responsible for the items that are advertised on its site, and should not put out the welcome mat for genocide and intolerance as represented by this Nazi paraphernalia," he said.
"It's appalling to think that Gumtree is benefiting financially from the peddling of this noxious material to millions of consumers, and must realise that Australians expect better. By making these hate items easily accessible, they are re-victimising all the innocent lives extinguished by Hitler's evil acts."
Dr Abramovich said anti-Semitic propaganda and words often resulted in violence and deadly attacks. "It is inexcusable for Gumtree Australia to help normalise this repulsive trade which promotes and celebrates the murderous anti-Semitic ideology of the Third Reich," he said.
"I am sure that Neo-Nazis, racists and radical groups, who cannot hawk their nasty materials to traditional sellers, are delighted that this vile content, which glorifies white supremacist agenda, and which dehumanises Jews, is available for purchase.
"At a time of a dramatic rise in anti-Semitism and racism against ethnic minorities, to have such poisonous objects only helps to inflame the embers of discrimination and extremism."
–– ADVERTISEMENT ––

In a statement, a Gumtree spokeswoman indicated selling Nazi memorabilia was against site policy. "Gumtree's Prohibited Items Policy prohibits the listing of offensive material," she said.
"We have a broad policy regarding offensive material because we want to ensure we capture the wide range of items which could be deemed offensive. We encourage the community to report any offensive ads, including those for Nazi memorabilia, so we can investigate and remove, if necessary.
"The safety and security of the Gumtree community is our number one priority. Gumtree is a community marketplace which facilitates trade within the confines of the law and we rely on our users' feedback to keep the site friendly, safe and relevant for everyone.
"Gumtree will remove any reported ads which breach our policies and we strongly encourage users to report ads of an offensive nature using the 'report ad' button on each listing."
Earlier this year, the owner of a Perth store selling tens of thousands of dollars worth of Nazi memorabilia defended the practice following an outcry from the Jewish community.
"Most of the people who buy [Nazi memorabilia] are educated, hardworking people," JB Military Antiques owner Jamey Blewitt said at the time. "Tradesmen, people in the professions — architects, doctors, lawyers, all sorts of people."
But Robert Goot, president of the Executive Council of Australian Jewry, argued this kind of trade "reflects poorly on those who engage in it".
"It is a sad to see how some people are willing to profit from the collection or sale of Nazi and Holocaust memorabilia while remaining ignorant of, or indifferent to, the racism, bigotry, persecution and mass murder with which these items are associated or, worse, see these evils as part of the attraction," he said in March.
"They are also desensitising others to the realities of Nazi brutality and the immense suffering it inflicted on millions of people."
In 2014, members of Adelaide's Jewish community condemned the auction of more than 30 items of Nazi memorabilia, and in 2013 a Sydney auction house faced similar criticism.